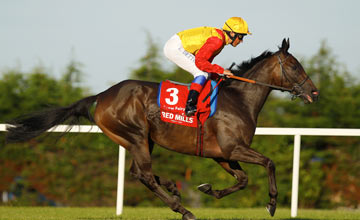 Snow Fairy: the daughter of Intikhab is in foal to Elusive Pimpernel
WHEN a multiple Group 1-winning mare retires to the paddocks it is expected they will be covered by one of a small pool of elite stallions - Galileo, his outstanding sons Frankel and New Approach, Dubawi, Dansili, Oasis Dream, Invincible Spirit and maybe now War Front in Kentucky.
A trip to Galileo or one of his sons looked an especially attractive first mating on paper for Snow Fairy, who won six times at the highest level including both the Epsom and Curragh Oaks before she was retired last year after re-aggravating an old injury.
Other mares by Snow Fairy's sire Intikhab have clicked with Galileo to produce top-class South African filly Igugu and CL Weld Park Stakes winner Magical Dream, who is out of another Group 1 winner in Red Evie.
But Snow Fairy's owner-breeder Cristina Patino, never one to conform to convention in her breeding operation, has elected to send the brilliant mare to her own unproven stallion Elusive Pimpernel, who was 'just' a Group 3 winner and stands at the Irish National Stud for €1,000 - a fraction of the fees Galileo, Frankel and co command.
Snow Fairy has now been scanned in foal at 21 days to Elusive Pimpernel. Some might consider it to be a mismatch of Anna Nicole Smith and J. Howard Marshall proportions but I can think of at least five reasons why it might not be such a bad idea after all . . .
1. Elusive Pimpernel was actually a very good racehorse
His form may have tailed off - in his last run he finished midfield in a Doncaster conditions race - but in his pomp he was right up there with the best.
He won his first two starts at two and found only St Nicholas Abbey too good in the Racing Post Trophy. On his debut at three he won the Craven Stakes by four lengths and then he finished fifth in a vintage 2,000 Guineas, with the four horses in front of him - Makfi, Dick Turpin, Canford Cliffs and Xtension - all Group 1 winners.
2. The Elusive Quality line has worked in Europe
It is commonplace for European breeders to claim that Kentucky stallions can't hold a candle to the current vintage crop of stallions in Britain and Ireland, but Elusive Pimpernel's Kentucky-based sire Elusive Quality hasn't done too badly with his runners on this side of the Atlantic.
Besides Elusive Pimpernel there has been Certify, Elusive City, Elusive Kate and Raven's Pass. Elusive City is a former champion first-season sire who has supplied a Classic winner (Elusive Wave) and was responsible for one of last season's leading two-year-old colts in France, Kiram.
3. Interesting breeding pattern for pedigree buffs
A foal resulting from the Elusive Pimpernel-Snow Fairy mating will possess a pedigree with some interesting duplications.
First, and what will surely give Patino enormous pleasure, is that the foal will be bred 3x5 to her foundation mare Gay Fantasy.
Patino purchased Gay Fantasy, a daughter of Troy, as a yearling in 1982 and although a cracked pelvis prevented her from reaching the racecourse, she features as ancestress of many of Patino's best horses.
Gay Fantasy's daughter by Sadler's Wells, Cara Fantasy, produced Elusive Pimpernel, while it was Woodland Dream, her great-granddaughter by Charnwood Forest, who produced Snow Fairy.
Charnwood Forest is out of a mare by Sadler's Wells, so Snow Fairy's foal will also be bred 3x5 to the late Coolmore colossus.
4. We've been here before with Big Bad Bob
Another high-class horse bred and raced by Patino from the Gay Fantasy family was Big Bad Bob, a half-brother to Snow Fairy's dam whose finest hour came when he won a Group 3 at Baden-Baden.
Big Bad Bob was quietly retired to Islanmore Stud, where he covered only Patino's mares in the early years. He shot to fame when his first crops produced plenty of winners and stakes performers from few chances, including Patino's Group 3 winners Berg Bahn, Bible Belt and Brendan Brackan.
He was subsequently transferred to the Irish National Stud, where he now stands at €6,000, and his first larger crop of two-year-olds will hit racecourses this year.
Encouragingly for Elusive Pimpernel - who also started out at Islanmore but was moved to the Irish National this year - Big Bad Bob is by a sire it would have been far more difficult to predict making a big impact on the Flat: Bob Back, who did supply St Leger hero Bob's Return but is better known in the jumps sphere, where his sons Bacchanal, Bobs Worth, Burton Port have made hay.
5. It's the owner's prerogative
It's easy - and a lot of fun - to be an armchair breeder, plotting fantasy matings without ever having to worry about stumping up a six-figure sum to send a mare for a dalliance in a covering shed that will last only a few minutes, but it is breeders who hold the purse-strings and have the right to send their mares to whichever stallion they want.
Patino is unlikely to send the Elusive Pimpernel-Snow Fairy foal to the sales so she doesn't need to worry about commercial considerations and, anyway, sending outstanding racemares to the best stallions has never been a guaranteed recipe for success, so who's to say this mating won't produce a good racehorse?